Skip to Content
Reliable HVAC Systems in Knoxville, TN
Reliable HVAC Systems in Knoxville, TN
Grissom Heat & Air has been concerned with our customers' comfort in their homes since we entered the business over 35 years ago. As a supplier of custom heating and cooling solutions that meet the practical and environmental needs of your home, you can count on Grissom Heat & Air to provide the HVAC installation, repair, and services you need, when you need us.
To learn more about what we can do for you, start with a free consultation. Depending on what you need from our expert technicians, we can give you information concerning what type of HVAC system is best for you, as well as a quote for the service requested. Contact Grissom Heat & Air today.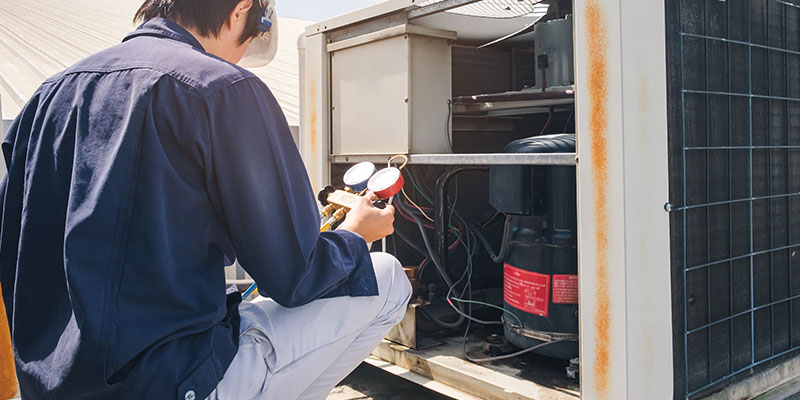 High-quality heat in the winter
Knoxville doesn't get the low winter temperatures that some other places do. But that doesn't mean you don't need reliable heat. For those cold nights, you want the peace of mind that comes with knowing your heating system is ready to work for you and keep you and your family warm. At Grissom Heat & Air, we'll give you all the information you need to make an informed decision about your next HVAC or heating appliances. Once you've made a decision, we'll provide a system and install it in your home. We only sell long-lasting, high-quality heating and HVAC systems. If you experience issues with your existing unit, we offer expert repair and maintenance so that you can live in a comfortable home all year.
We sell high-quality Goodman and Amana heat pumps and furnaces, some of the most reliable brands on the market today!
Air quality is our priority
Throughout the year, we ensure that your home is equipped with an HVAC system that provides high-quality heating and cooling while maintaining ideal air quality. Aside from providing HVAC systems from industry leaders like Goodman and Amana, we offer Honeywell air filtration systems and humidifiers for purchase and installation. Not only will the air in your home be warm or cool when you need it, but it will be clean and breathable as well.
Unmatched repair services
We sell some of the highest rated brands in the market when it comes to HVAC units and we'll service and repair most brands. Is your home not adjusting to the environmental temperature as well as it used to? If you can't remember the last time you had your HVAC system repaired and replaced, that may be the culprit. Remember, even if you're not noticing a change in the temperature of your home, older HVAC systems have to work harder to maintain temperatures as they age, so you may be using more energy than you may have budgeted for. If you notice your heating bills rising, give us a call and we'll come out and do an inspection. There's a good chance it could be time to repair or replace your HVAC system. If so, we'll give you a free consultation as well as information you need to make a decision.
Customer Reviews
Jeff has done my work for many years now. I've built homes from $200,000 to over $1 million and, regardless of the size of the project, he has always exceeded my expectations. I would highly recommend Grissom Heat & Air for all of your heating and cooling needs.
I've known Jeff Grissom for a long, long time. And one important thing with Grissom is the service after the sale. We build custom homes and certainly price and proper installation are important but equally important is the service after the sale. They also have a 24-hour answering service and we've had no problems getting call backs during the night or on the weekends.