Skip to Content
HVAC Inspections in Knoxville, TN
The Importance of Comprehensive HVAC Maintenance
It's vital to conduct routine HVAC inspections for your home or commercial space to help guarantee smooth operation, safety, lowered energy bills, and avoid costly breakdowns. Grissom Heat & Air provides professional, comprehensive HVAC inspections for both commercial buildings and homes throughout Knoxville, TN. We'll go over why conducting routine inspections and maintenance are important, how we help, our checklist, and why you should trust our team with your building's HVAC system. Contact us today to schedule your HVAC inspection.
Why Conduct an HVAC Inspection?
HVAC inspections are part of routine maintenance that gives you a closer look at how your system is running. It also lets you know if you have any areas of improvement, repairs that need to be made, and helps you get ahead of repairs.
Maximize Efficiency
An HVAC system has a lot of moving parts. By identifying trouble spots, repairing them & fine-tuning them, routine inspections help you enhance productivity. This will lead to running your system more affordably & efficiently, resulting in fewer times your heating or air conditioning kicks on, quiet operations & shorter run times. A properly maintained HVAC system is less likely to experience malfunctions & expensive repairs.
Year-Long Comfort
If you have ever had to deal with a lackluster or faulty HVAC system, you know how annoying it can be. When you hire Grissom Heat & Air to conduct inspections and routine maintenance, you can relax, knowing your system is running smoothly & comfortably. You never have to worry about loose connections, clogged vents, or faulty wiring as we take care of it for you.
Save Money on Energy Bills
Did you know that an unmaintained HVAC system ends up costing you significantly more on energy bills both in the Summer and Winter? When your system isn't serviced, it has to work harder to keep you and your family comfortable. This means it runs more often and for longer, hiking up the prices of your energy bills. Routine maintenance allows your system to run smoothly for lowered energy bills and peace of mind.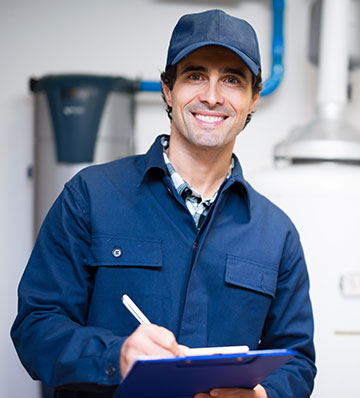 Our Inspection Checklist
Throughout our routine inspection, we check and inspect each of these components. During our inspection, we keep a comprehensive list of details on how we can help you with repairs, improvements, and routine maintenance. The checklist contains:
Visual inspection of external & internal parts
Check filters
Check airflow
Inspect all electrical connections
Thermostat calibration
Inspect fan blades
Lubricate motors
Inspect ductwork
Why Grissom Heat & Air?
At Grissom Heat & Air, we have nearly 40 years of experience serving Knoxville, TN with residential and commercial HVAC services. We supply custom heating and cooling solutions that help you get great heating and air conditioning without spending an arm and a leg for your services. We conduct professional HVAC installations, repairs, replacements, and inspections to help you and your family stay comfortable and avoid breakdowns on your system when you need it most. Enjoy peace of mind that your heating and air conditioning will always turn on and run efficiently throughout the whole year with routine HVAC inspections by Grissom Heat & Air.