Skip to Content
Comprehensive AC Unit Maintenance in Knoxville, TN
AC Maintenance By the Local Professionals at Grissom Heat & Air
Homeowners throughout Knoxville, TN, and the surrounding areas choose Grissom Heat & Air for AC maintenance services. One of the most effective ways to ensure your home stays comfortable throughout the summer is proper maintenance from an experienced team. Our licensed professionals have the knowledge & experience to provide maintenance services on most models. As a local team, you can always rely on us to arrive at your home on time & ready to work. If you want award-winning service with technicians who go the extra mile to ensure you're satisfied, contact us today to schedule your AC maintenance service.
What Are the Common Issues with AC Units?
If your AC unit isn't working at maximum efficiency, not only are you paying too much, you may be exposing your family to potential health issues. Maintenance is the best way to ensure your system is working correctly and uncover issues with your AC unit before they lead to more costly repairs or replacements. Some of the most common issues our team uncovers include: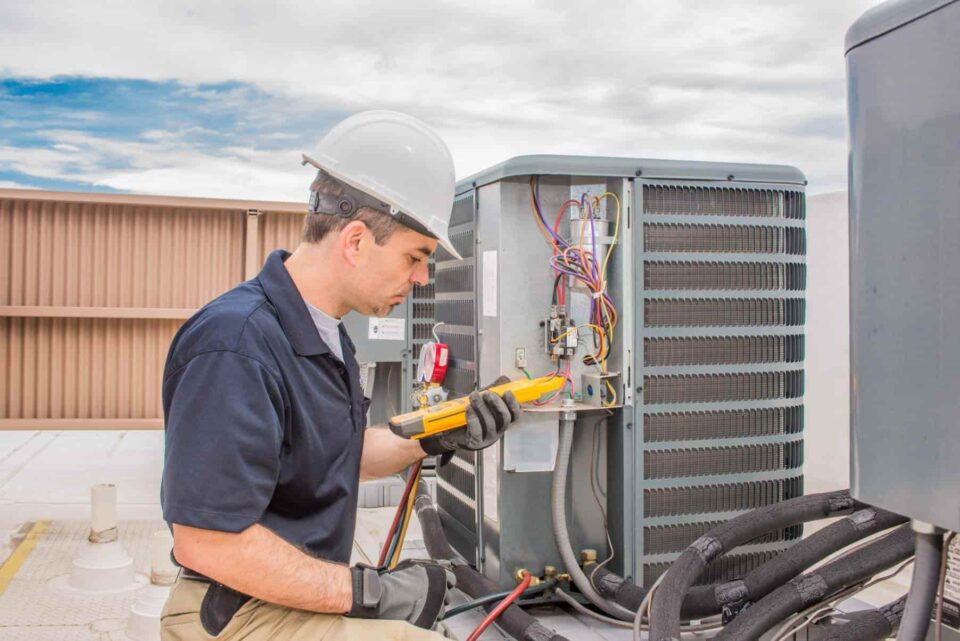 Evaporator Coils – The evaporator coil absorbs the heat from the air coming into the AC unit. They usually last between 10 to 15 years. If they're clogged with dirt and debris, they may not be helping to cool the air.
Coolant Levels – Low coolant level is one of the most common issues with residential AC units. Luckily, it is also a relatively simple fix. Our team will refill the unit's coolant to ensure it's working correctly.
Lubrication – There are a lot of moving parts with your AC system. Lubricant is essential for preventing those parts from breaking down. If your AC is low on lubricant, you may hear banging or grinding noises.
Leaky Ducts – If your home's air ducts are beginning to deteriorate, you may notice uneven cooling throughout your home. Our team can quickly locate where the conditioned air is escaping and fix it.
How Can I Tell My AC Unit Needs Maintenance?
As your system gets older, you may experience more frequent breakdowns. Ongoing HVAC maintenance is the most convenient way to ensure it's operating correctly during the summertime. We're able to complete a comprehensive diagnosis of your system to identify and repair the issue with your air conditioner. However, homeowners should be aware of the common signs their AC units need maintenance services.
High Energy Costs
More Frequent Breakdowns
Uneven Cooling
Frequent On and Off Cycles
What Are the Benefits of Routine AC Maintenance?
There's no worse experience than having to endure the sweltering summer months with an air conditioner that isn't operating. A reliable AC unit that is operating at peak efficiency will provide you & your family with greater peace of mind. At Grissom Heat & Air, our award-winning team of professional HVAC technicians provides one-time & ongoing maintenance services for home & business owners throughout the region. Learn more about the benefits of scheduling ongoing maintenance for your AC service:
Longer Life – Most AC units last between 10 to 15 years. With routine maintenance, we're able to address any issues with your system before they lead to more severe repairs or breakdowns.
More Energy Efficient – If you'd like to pay less to operate your home's AC unit, then routine maintenance is the most convenient option. We can ensure that all the mechanical & electrical parts are working correctly to reduce the stress on your unit.
Fewer Repairs – As your system gets older, you may encounter the need for more frequent repair services. However, routine maintenance eliminates & reduces the need for repairs because our technicians will replace deteriorating parts.
Air Conditioner Maintenance FAQs
As an area leader in air conditioner maintenance, we've assisted dozens of customers in improving the efficiency and lifespan of their units. Our knowledgeable and trained technicians have the proper tools and parts to service nearly any brand AC. If you have a question about your AC maintenance service, we're always happy to assist you. Below are some of the most commonly asked questions about air conditioner maintenance.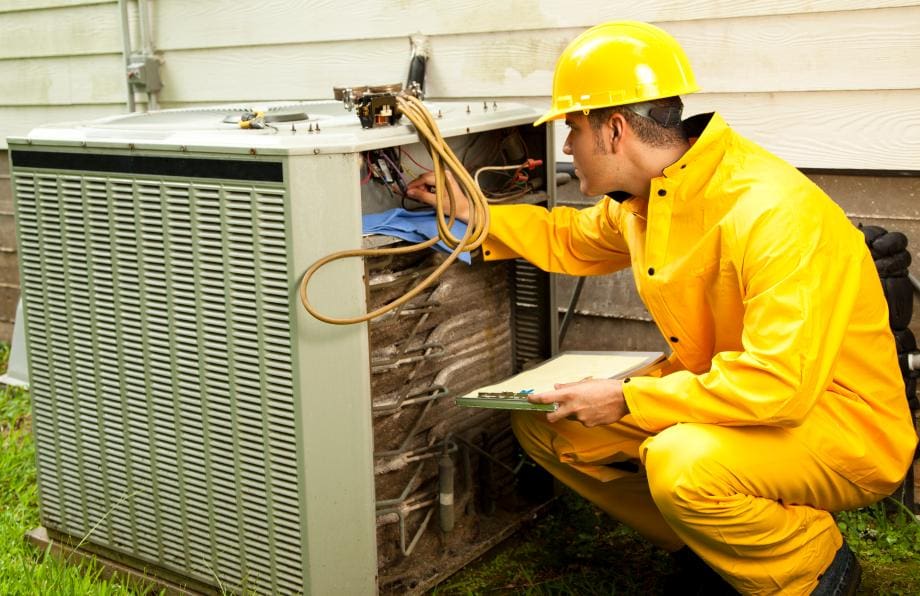 How Often Should I Schedule Maintenance? – We recommend scheduling maintenance for your AC unit at least once a year during the springtime. However, if you have an older system, you may consider a more frequent schedule to ensure your system is working properly throughout the summer.
How Long Does Maintenance Take? Throughout the maintenance process, our licensed technicians will examine many of your AC unit's mechanical and electrical features to ensure that it's operating correctly. Depending on the condition of the unit, maintenance usually only takes about an hour or so.
What Can I Do In Between Maintenance Calls? – One of the most effective and easiest ways for homeowners to ensure their system is working efficiently is by replacing the air filter. A dirty air filter can throttle your system. They should be replaced at least every 90 days.
Choose Grissom Heat & Air for AC Maintenance Services
Home & business owners in need of air conditioner maintenance services in Knoxville, TN choose Grissom Heat & Air because we're a reliable and local business. Our team of AC technicians has the proper tools & experience to handle maintenance services for all makes & manufacturers. Whether your system was installed by us or another company, we can be counted on to provide fast and affordable services. In 2021, we were awarded "Best of Knoxville" by Knox Stars for our outstanding commitment to customer satisfaction. Discover for yourself why more home and business owners throughout the area choose us for AC maintenance, AC repair, or AC installation services. Contact us today to schedule your service.