Skip to Content
About Our Heating System Conversions in Knoxville, TN
Expert Heating System Conversion By Grissom Heat & Air
With more and more people making eco-conscious decisions about their home appliances, it's now very common to consider converting heating system types. A heating system conversion can make your home more comfortable, lower energy bills, and make your home more energy-efficient. Heating system repairs and heating system conversions can even increase the resale value of your home, should you choose to sell. At Grissom Heat & Air, our team has decades of experience in heating system conversions in Knoxville, TN. When we come to your home for a consultation, we'll determine if you would benefit from switching to a different heating system type.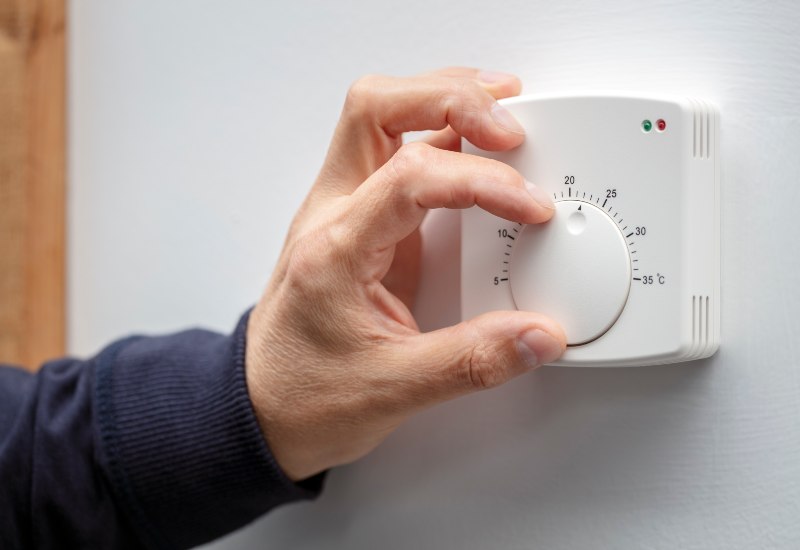 What Is a Heating System?
Your home heating system is a complex device or set of equipment that generates and transports heat throughout your home. The most common heating system types are boilers, heat pumps, and furnaces. Boilers heat water to create steam, which then moves throughout the house, heating each room. Furnaces can be powered by natural gas, propane, electricity, or fuel oil to generate heat, and heat pumps use electricity to move warm air from outside the home to the inside. Your home's heating system has many elements that efficiently generate and transmit heat throughout your home. These elements include your home's thermostat, the air duct system, a motor, a heat exchanger or burner, a blower, air filters, and the fuel system. If there is a problem with any of these elements, your heating system might function ineffectively or fail altogether.
Get to Know Heating System Types
Most people are familiar with a few different heating system types, but some are surprised there are so many.
Here's a quick look at seven different home heating system types:
Forced Air – This is the heating system used by a home HVAC system. It is one of the most common heating system types in the US and heats homes quickly and efficiently. It operates by blowing air from a furnace to different rooms using a network of air ducts. A forced air heating system can be fueled with natural gas, fuel oil, propane, or electricity.
Gravity Air – Gravity air furnaces were popular before forced air heating systems were developed. A gravity air furnace distributes warm air through metal air ducts, but not by using a blower. Instead, they take advantage of the physics of warm air rising while cool air sinks. The gravity air system is installed in the basement or lowest part of the home, and the air ducts trap the warm air as it rises through the home, exiting through vents in each room. This type of heating system is no longer installed, but many older homes still use them because they are so inexpensive to maintain. A gravity air furnace can be fueled with natural gas, propane, or fuel oil.
Radiant – Radiant floor heating is typically a supplemental heating system used with another home heating system type. Water tubing is installed in concrete slab floors or attached to the underside of wood floors. This type of heating heats the flooring and objects instead of the air. As the heat rises, it consistently heats each room. Many people install radiant heating in bathroom or bedroom floors to make them more comfortable in winter. A radiant floor heating system can be fueled by natural gas, propane, or electricity; however, this can be supplemented by solar hot water systems.
Boiler and Radiator – Whole-home boiler and radiator systems have existed for years. This heating system typically uses a boiler to create steam and transport it through pipes to radiator units installed in every room. The heat is then released through each radiator to emit radiant heat. This system has fallen out of favor in the last few decades, as it isn't as efficient as other heating systems, and many people don't like the way radiators look in their rooms. You'll still see them in older homes or apartment buildings, however. A boiler and radiator system is fueled by natural gas, electricity, or fuel oil.
Baseboard – A hot water baseboard heating system offers radiant heating to each room through baseboards installed along the walls. This heating system type is best for small houses or studio apartments. It uses a hydronic system with a centralized boiler that heats water and creates steam that circulates through water pipes to the baseboard heating units. These units then radiate heat throughout the room. They are fueled by natural gas, propane, and electricity and can be supplemented with solar heating systems.
Heat Pump – Heat pumps are popular in milder climates, where people don't need to have their heating system running day and night. Heat pumps extract heat from the air and redistribute it where needed. They use an indoor air handler to transmit hot air to each room. A heat pump can draw hot air from outside the home or be installed deep in the ground or even in water to pull heat from a natural source. Most heat pumps operate with a mini-split or ductless system. Small units are installed in each room, and an outdoor air compressor unit captures the hot air. Some heat pump systems can be reversed in the summer and function as cooling systems. Heat pumps are typically fueled by electricity but can also be fueled by natural gas.
Electric Resistance – Electrical resistance heating systems are most popular in milder climates or as supplemental heating in rooms that aren't used as often. They can be used in finished basements, guest houses, covered porches, and home offices. This heating system operates like a radiant electric heater in that it heats objects in each room instead of just heating the air. They are installed near the floor, and there are two types: convection, and hydronic. Convection heaters use a metal rod with fins that generate warmth as electricity is applied. Hydronic heaters use a metal tube filled with liquid that heats up as electricity is applied. Electric resistance heating systems operate with electricity.
Explore the Benefits of a Heating System Conversion
If your home uses an outdated or inefficient heating system type, consider investing in a heating system conversion. A heating system conversion allows you to install a new type of heating system, retrofit a heating system, or switch from one type of heat source to another. For instance, some people would prefer to switch from electric heat to gas heating, while others might prefer converting from gas to electric, or from fuel oil to natural gas.
Here's a look at the benefits of investing in a home heating system conversion:
Easier maintenance and fewer repairs
Switch to a more energy-efficient or eco-conscious heating system type
Improve the performance of your home heating system
Make your home more comfortable
Lower your heating costs
Increase the resale value of your home
Improve the safety of your home heating system
Supplement your existing heating system to extend it to home additions, garage or attic conversions, or a basement living space
Make your heating system more reliable
Reduce your carbon emissions
Make sure your heating system operates even during a power outage
Take advantage of tax rebates or government incentives
Avoid reliance on a fuel type that is prone to shortages or inflation
Reduce your home insurance premiums
Learn About Our Heating System Conversion Process
When you call us to discuss a home heating system conversion, we'll schedule a consultation. A team member will come to your home to evaluate your space, discuss your existing heating system type, and review your needs, goals, and budget. We'll then give you information about other home heating system types and their pros and cons so that you can make an informed decision. We will inspect and investigate every area of your home to determine if it is safe, feasible, and cost-effective to embark on a heating system conversion. We will discuss the timeline for installing a new heating system, including whether we can retrofit your old system or whether we'll have to remove it and install an entirely new heating system. We will also ensure you know the average cost of a heating system conversion. If you accept our job estimate, we'll create a firmer timeline and tell you and your family what to expect throughout the process. Then we'll schedule a date and time to begin work
A Look at Our Other Heating System Repairs & Maintenance
In addition to home heating system conversions, we also offer other residential and commercial heating and cooling services:
HVAC maintenance and repair
HVAC inspections
Heat pump repair
AC repair
AC installation
AC maintenance
Furnace Repair
Commercial HVAC services
Heating services
Call Us for Maintenance & Heating System Repairs
Are you ready to consider a heating system conversion? Do you want to schedule maintenance and heating system repairs in Knoxville, TN? Call us today at Grissom Heat & Air. We can handle all home heating systems and offer expert consultations on what heating system type would benefit you and your family most. We also offer comprehensive heating and cooling services to homes and businesses. To learn more or schedule an appointment, call or contact us online.